LEADERSHIP
CHAR PR was founded by Charlotte Kullen, a veteran reporter and public relations professional, to offer companies and individuals the level of personal attention often associated with having an in-house PR team, but with the range of experience and contacts afforded by a full-service public relations firm.
Born in motion, in a car crossing state lines en route to the hospital, to a Korean War fighter pilot – Charlotte has always been happiest when on the move, seeking new places and adventures, meeting new people and experiencing the world, whether on the back of a horse in Patagonia or diving with the sea turtles in Belize – or simply sipping a cocktail listening to live jazz or reading about international happenings on a New York City park bench.
She brings this same energy, excitement and fun-loving, yet well-thought-out, approach to her public relations clients at CHAR PR.
Falling in love with New York City during a summer acting program at the American Academy of Dramatic Arts, Charlotte chose to return to Manhattan after high school to attend New York University. After studying Communications, with concentrations in Mass Media and Journalism, at NYU, where she was a University Scholar, unerringly on the Dean's List, a member of the Equestrian Team and graduated with High Honors, Charlotte went on to earn her Master's of Science in Journalism at Northwestern's Medill School of Journalism.
Joining the century-old City News Bureau of Chicago wire service after graduation, Charlotte learned what it really meant to be an urban reporter, follow a story through to the end – which often involved standing in driving sleet at fire and murder sites at all hours of the night – and develop sources for life, who knew you would quote them accurately and fairly. A couple of years of big city breaking news later, Charlotte opted to move back East, to write longer pieces for a daily newspaper and resume life in Manhattan.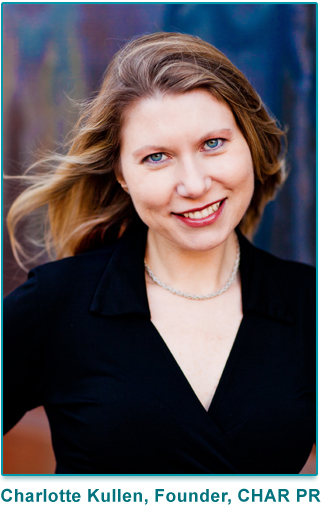 Realizing what she loved about reporting was connecting with people, learning their story and writing about it, Charlotte turned to public relations, working with clients in industries ranging from technology, law, consulting, real estate, medical, consumer products and an assortment of authors and entrepreneurs, via NYC PR firms, as an in-house PR/Marketing management member and as a consultant. What each of these varied clients had in common was appreciation for the close, no-nonsense working relationship and publicity results that generated positive attention.
Then she founded CHAR PR.